Viktor Marina (Deep House Dublin)
Bosnian born, Dublin based DJ and radio host Viktor Marina has been involved in electronic music since 2001, and a DJ since 2004. From being a music journalist through newspapers and radio, DJing to running a couple of club nights as a promotor.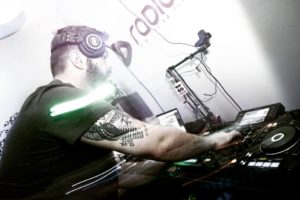 In 2015 Vik moved to Dublin, Ireland where have hosted a radio show called Groovology Session on Ireland's no1 electronic music Radio station PHEVER Irl for 2 years. During that time his Groovology Podcasts Series (GPS), which was part of the show, have hosted guest podcasts and interviews from artists such as David Penn, Kora, Brian Cid, Just Emma, Robert Babicz, Igor Marijuan, Mathus Raman, Niki Sadeki and so on.
Inspired with music platforms such as Deep House Amsterdam and Deep House London, in September 2017, together with his friend Kamil Ratajczak aka Fizzy Waters, have launched Deep House Dublin platform to showcase local Irish and international artists in their now famous Monday Facebook Live Stream. In only 6 months, DHD has grown into a respectable collective in Dublin with more and more gigs and residencies in some of the most prestigious clubs and venues in Dublin.
His music styles varies from Deep Melodic, Italo to Nudisco. This podcast's purpose is to share music and positive vibes accross the globe.
xxxxxxxxx
CONNECT
DEEP HOUSE DUBLIN
FB_https://www.facebook.com/DHdublin
IG_https://www.instagram.com/dhdublincity
xxxxxxxxxxx
VIKTOR MARINA
FB_https://www.facebook.com/Viktor.Marina.Official
IG_https://www.instagram.com/viktor.marina1
SC_https://@viktormarina
TW_https://@vix_vixon