Viktor Marina (Deep House Dublin)
Bosnian born, Dublin based DJ and radio host Vik has been involved in electronic music since 2001, and a DJ since 2004. He has held residencies in clubs in Bosnia and Croatia for many years. From 2002 he was an Editor of a weekly publication regarding electronic music & news in various newspapers in Bosnia & Herzegovina regarding local & international scenes. He was writing & reporting on electronic music news in Bosnia and global.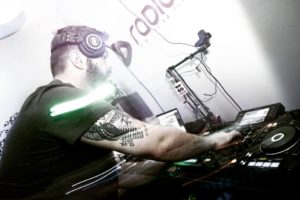 In 2004, together with DJ Romeo, his friend and one of the pioneers of electronic scenes in Bosnia, he started his first radio show on electronic music on Radio Studio 88. First edition of the show was every Wednesday from 8pm to 1am and it was very popular among clubbers of the times. In 2006 Vik started a club night with capacity of 3500 titled "Resurrection Of House" as resident DJ & promoter booking international names such as Chus, David Pen, Gadjo, Milk & Sugar, Syke & Sugar, Peter Gelderblom, Gadjo, Ian Pooley and more.
In 2015 Vik moved to Dublin, Ireland where he hosts a radio show called Groovology Session every Thursday lunchtime 12-2pm weekly on Ireland's no1 electronic music TV & Radio station PHEVER Irl. PHEVER is currently reaching over 400K weekly online over various platforms & simulcasts globally including phever.ie, ChewTV, Livestream, Facebook Live, TuneIn, Shoutcast, icecast, iTunes Radio, AppleTV, Roku, YouTube, internet-radio.com as well as FM in Dublin.
Recently he has enhanced this with the addition of the Groovology Podcasts Series (GPS) where he hosts guest podcast and interviews twice a month with excellent artists such as David Penn, Kora, Brian Cid, Just Emma, Robert Babicz, Igor Marijuan, Mathus Raman, Niki Sadeki and so on.
Inspired with music platforms such as Deep House Amsterdam and Deep House London, in September 2017 he launched Deep House Dublin platform to discover and promote local Irish and international artists.
His music styles varies from Deep, Deeptech, Downtempo, Progressive to Nudisco. In Dublin he played at Pygmalion Tengu, Willey Fox, Opium, Glitterball, Empire, Lillies Bordelo, WahWah and legendary Hangar. With Deep House Dublin crew he holds a residency in his favourite Dublin's bar, the Berlin Bar.